---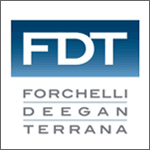 James C. Ricca, Esq. is a Partner at Forchelli Deegan Terrana LLP, a full-service law firm headquartered in Uniondale. Mr. Ricca co-chairs the firm's Banking & Finance practice group, where he counsels individuals, small businesses and institutional lenders. He has extensive experience representing private and institutional lenders on large commercial mortgage loan transactions. Mr. Ricca is also a member of the firm's Real Estate practice group. He earned his J.D. from St. John's University School of Law and his B.A. from Kenyon College.
Motivated by the Cleary School for the Deaf's mission to provide access to
language, communication and learning that will prepare students to thrive
independently in society, Mr. Ricca has been a consistent supporter, contributor and fundraiser for Cleary for many years. He has advocated on behalf of Cleary for funding from the New York State Education Department and has served as a Pro Bono advisor to Board of Directors on legal matters.
---